EVERYDAY-ONE
Currently dormant.
We hold an event every shingle night!
*Starts at around 20:00
*Free of charge
*Only for our hostellers
Are you a performer from our neighborhood?
Please call us @075-462-2288
We are looking for new performers or some interesting ideas.
Cultural Experiences
CALLIGRAPHY EXPERIENCE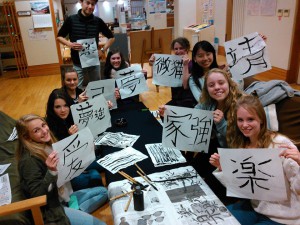 Let's enjoy Japanese art through calligraphy!
It's not just calligraphy,by breaking the character of the words,you can make your own world of art.          Lecture in English is also available.
Special offer price:2,000yen(per person/1 hour)
Available Time: Evening:After  8pm or in the morning
Reservation: Required at least 1 day beforehand
Registration:accepted from 2 to 30 peoples
YUZEN dyeing experience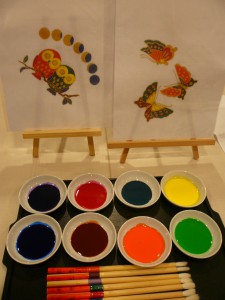 You will put a color on the painting written in gold color. You can get nice eco bags and table cloths.
Cost:1,980 yen

(per person)/ Required time: 1hour

Reservation: Required before 1 week
Accepted number: group of 3 or more
※It may not be accepted depending on the day. 
ZEN EXPERIENCE
A (Buddhist) priest of the Rinzai church of Buddha is coming to Utano Youth Hostel for Zen Experience.
Cost: 1,200yen (per person)/ Required time: 1 hour
Reservation: Required at least 1 week beforehand
Available Time: Evening 15:00-22:00
Morning: 7:00-10:00
Programs: Lecture "What's Zazen?''-Zazen Experience- Sermons
-Zen Stick Experience (for limited applicants)
Seated on a chair or on the floor are selectable.
Registration accepted from 3 to 20 people
* Ask us if you are more than 20 people
* Zen Experience is not available from July 10 to the end of August due to the absence of the priest.
*Please note that the event might be cancelled (after the reservation was made) when unexpected memorial services comes up.
*No English lectures available.
*Ask for English description brochures.
SAMURAI EXPERIENCE
Feeling like a real samurai?
Taking pictures with your own camera in samurai costume that used in movies and TV shows.
Special offer price 5,000 yen (per person/30 min.)
Reservation required at least one week beforehand
*The costumes are not very heavy
*Possible to wear the costumes up to 2 persons at the same time
*For children (100cm -)
Provider : Kouzu Corporation
This company provided costumes for Last Samurai the movie!
MAIKO EXPERIENCE
Turn yourself into a Maiko just in 10 min.
Take pictures as many as you want with your own camera.
Special price offered only for our hostellers!
Special offer price 3,500 yen (per person/30 min./after 19:00)
Possible to wear the costume 1 persons at the same time
Reservation required in advance
(You want to do it tonight? Ask us! It might be possible.)